Pre Wash
Soft House Washing and Pressure Washing
A prewash a house before painting or housewashing is a vital part of the exterior house painting process. It removes the dirt, debris, grit, moss, mould, spiderwebs making sure the surface clean ready for painting.
For those who live on main roads it removes street dirt and grime from homes located near busy roads. Plus it is wonderful for removing the green algae on the shaded side of your home.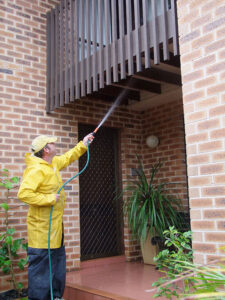 House Washing Process
We uses a solution of mild chlorine and sugar soap to pre wash your home. The gentle wash is solution is gently sprayed on and then thoroughly scrubbed by brush.
Then the mild chlorine solution is hosed away with fresh water. We don't use high-pressure Gerni or Karcher spray guns for house washing as they are too harsh. High-pressure spray guns are only used for cleaning driveways.